-Updated February 2020-
Decisions and Scholarships for the Class of 2024
The Admissions Department emailed and in some cases mailed out decisions for the Class of 2024 on Wednesday, January 15, 2020. Additionally, Academic Scholarship Awards and Honors Placement were included in all acceptance admissions letters. Named Scholarship Awards were emailed out beginning in late January. The remaining Named Scholarships will be awarded and, if chosen, you'll receive a separate notification in February/March. We look forward to welcoming the Archbishop Molloy High School Class of 2024!
Enrollment Now Closed
If you were accepted, the $450 enrollment fee was due by February 3rd. The link to do so was found in your acceptance emails. At this time, the link to enroll is now closed. Seats may open up after Registration Day, but there are no guarantees. Please email
admissions@molloyhs.org
with any questions.
Next Steps for Accepted Students
For those who paid the nonrefundable enrollment fee, additional registration materials will be emailed to you in mid-February. Remember that all accepted students should attend Registration Day, which is Saturday, March 7th in the morning. Keep in mind that the nonrefundable Technology Fee of $550 will be due on or before that date.
Contacting Us
Please keep in mind that the Admissions Department is handling an influx of calls and emails at this time, so we do ask if you have any questions, you preferably email us as you will get a more rapid response. We appreciate your patience and cooperation at this time. Thank you for your interest in Molloy. Congratulations again to the Class of 2024!
Wait List
If you were placed on the Wait List, please ensure that you use the unique WL code and fill out the active List form online. If you would like to submit your second quarter 8th Grade report card, you may email a scanned copy of it to our Admissions Department at
admissions@molloyhs.org
. You may also email us if you have any general questions regarding the Wait List. We will have a clearer idea if we are able to review our Wait List after our enrollment deadline (Monday, February 3rd) and/or our Registration Day (Saturday, March 7th).
New Molloy Admissions Instagram Account
@molloyhsadmissions
Back in August, Molloy launched its newest Instagram account, specifically for its Admissions Department! Please feel free to follow us on Instagram @molloyhsadmissions! We will update you regarding the fairs and presentations we will be attending, remind you of our Open Houses (Fall and Winter) or any other admissions-related events, post various trivia facts, etc. Check us out!
Recap: Molloy's Winter Open House for Accepted Students
The following article was featured in the 2/8/20 edition of Molloy's online newsletter, The Beehive. Special thanks to the author of this article, Mr. Joseph Sommo '03.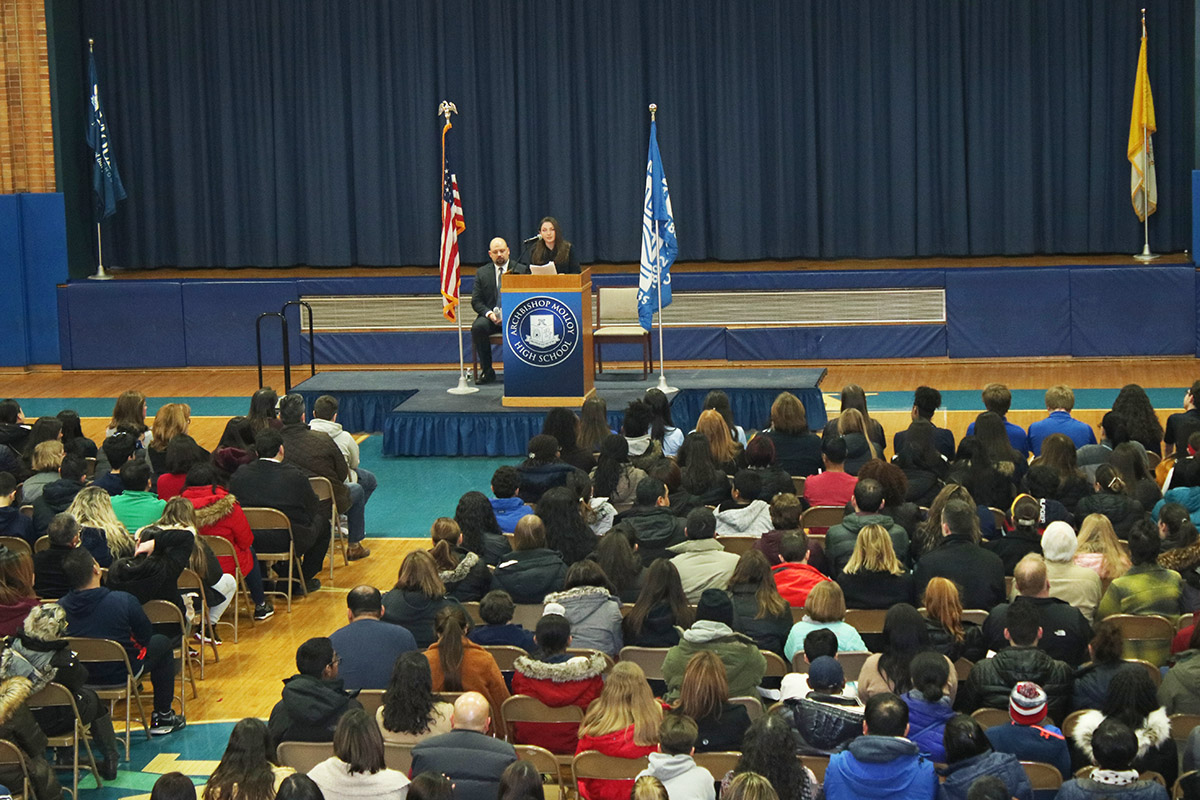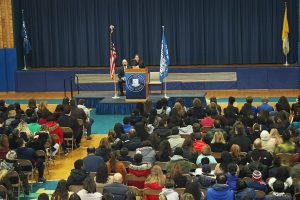 On Thursday, January 23rd, Molloy welcomed accepted students and their families to its Winter Open House. Earlier in January, Molloy accepted over 1,260 students out of nearly 2,000 applicants for 400 available freshman seats. Students from many Catholic and public schools and neighborhoods/boroughs were accepted. Molloy's Winter Open House for Accepted Students provides an opportunity for accepted students to enjoy self-guided tours and many one-on-one interactions with our students, faculty, and parent volunteers.

The Open House began with a wonderful speech presented by senior Krista Schemitsch '20, who began by stating that attending Archbishop Molloy High School was "the best decision that [I] have ever made." As an eighth grader, Krista was impressed with the welcoming nature of Molloy's Open Houses. "What solidified my desire to come to Molloy was actually this Winter Open House, where I had the opportunity to speak to seniors whose desire to talk about Molloy was endless." Krista's Molloy journey included a trip to the Marist Brothers Center at Esopus for Freshman Camp, JV soccer, amazing teachers like Mr. Sheehan, and experiences like the National Honor Society, American Sign Language Club, and numerous rigorous AP classes. Each step of the way, Krista felt prepared by her teachers and supported by her friends. "Where I start the next phase of life's journey is still uncertain since I'm waiting on more college admission results….But, no matter where I go, I know one thing for sure: Molloy did give me the environment to develop into the person I am today and to determine my future. It prepared me well for my next step. And for that, I will be forever grateful." Click here for the full speech.


We hope our accepted students were inspired by Stanners like Krista, and we look forward to welcoming the Class of 2024 to Molloy in the fall. For more information about Molloy admissions visit www.molloyhs.org/admissions/, @molloyhsadmissions on Instagram, or contact admissions@molloyhs.org.
Not Accepting Any More Students for the Current 2019-2020 Academic Year
So you are aware, all of our grades - from 9th through 12th - are at full capacity. We are not accepting any more incoming Freshmen or transfer students at this time. Regarding transferring to Molloy, if you wish to be a Sophomore or Junior at Molloy the following academic year, you can inquire with us by emailing
admissions@molloyhs.org
in the Spring of 2020. Further information can be found on our
Transferring to Molloy
page. Thank you for your interest in our school!